Monday, October 18, 2021 / by Raj Jaggi
When you've decided to sell your house, you'll need to figure out what form of transaction is ideal for you. You can engage a licensed real estate agent, go FSBO ("For Sale By Owner") and sell without an agent, or work with an iBuyer in general.
If you've never considered the third option, you're likely to have a lot of questions about what iBuyers are, how they work, and how they differ from the first two, which are part of the regular home-selling process. Don't be concerned. While we may not have all of the answers, we'll go through the basics of iBuyers and the benefits and drawbacks you should think about before deciding on this type of transaction.
An iBuyer (short for "instant buyer") is a real estate company that uses technology to acquire and sell the property. Instant refers to how quickly an iBuyer's algorithm calculates the AVM in order to make an offer on a house without seeing it, which could take minutes or days. To seek an offer from an iBuyer, use the company's website or app to provide basic images and information about the property, such as the address, age, square footage, and features. The iBuyer makes an offer after calculating the value of your home. If you accept the proposal, the employer will conduct an in-person assessment or evaluation before making a final offer to you.
PROS
Unlike a traditional sale, selling your house to an iBuyer ensures a quick, easy, and convenient transaction. It eliminates the stress of preparing your home for sale, so you won't have to worry about staging or increasing curb appeal. You also don't have to schedule any showings or wait for a buyer to submit an offer. The ability to avoid any interruption created by preparing or making their house available for showings can be a big bonus for some sellers. iBuyers, on the other hand, provide speedy and flexible closing dates. You have the option to shut whenever it is most convenient for you, which means you can close in as little as 10 days or as long as 90 days.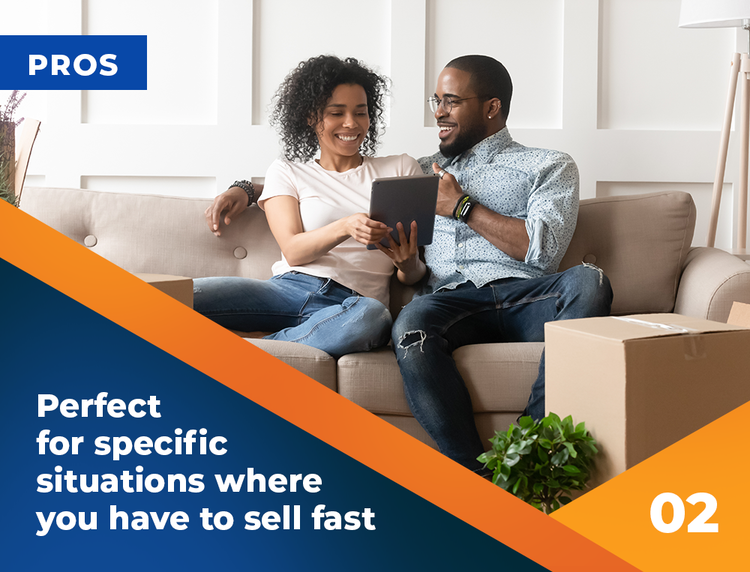 When the following conditions apply, selling to an iBuyer may be the best option:
- You're moving to a different city and need to sell your current residence as soon as possible.
- You've recently inherited a property that you don't want to maintain or rent out.
- If you're having trouble finding a new tenant for an investment property.
- To help with your financial condition, you need to quickly access the equity in your property.
The assurance of an all-cash offer for your house is one of the most significant advantages of hiring an iBuyer. There's no need to be concerned about a buyer's finance falling through. It'll also come in handy if you need the money for a down payment on your future house.
When you choose the iBuyer method, you may rest assured that your house will sell in some fashion once they've made a final offer.
CONS
Be prepared to negotiate a lower purchase price, as the offer they make is often less than what the home is worth. This is because they are taking a big risk by paying soon with an all-cash offer and closing rapidly. It's the cost of convenience and flexibility when it comes to selling your house. Similarly, if you're in a rush to relocate and can't undertake the repairs yourself, the costs will be reduced from the price because the repairs will be handled by the iBuyer. This could significantly reduce the value of your offer.
Despite their steady expansion, iBuyers are not yet available in every area. So, even if selling to one is the greatest option for you, they might not be active or operational in your area. It's a good idea to do some research on your local housing market before selling your home to one of these companies.
Even if you live in an area where iBuyers operates, the companies are picky about the homes they purchase. Unlike house flippers, who look for damaged houses or those that require substantial renovations, iBuyers look for homes that are currently in good shape and only require minor repairs. They can be choosy, therefore even high-end homes, homes with a lot of customization, and most older homes may not be eligible. Keep in mind that they have the opportunity to refuse to acquire your home once you submit a request with information about it. Using an iBuyer won't be an option if your house doesn't qualify.
You don't get to know the folks who will be moving into your property if you use the services of an iBuyer. The iBuying option may not be for you if you prefer to speak to actual possible buyers and get to know the next homeowner rather than going through a website, or if you prefer to speak to actual potential buyers and get to know the future homeowner rather than going through a website. Using a real estate agent and conducting a traditional sale is your best option in this instance.
---